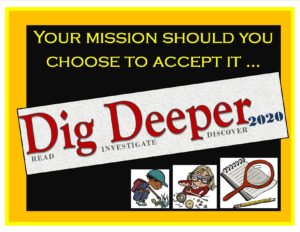 The Dassel Library is offering its annual summer reading program once again. The theme this year is Dig Deeper: Read, Investigate, Discover. While it won't look exactly the same as it had in the past, we are striving to keep kids reading and discovering all summer long and plan for several fun ways for kids to interact with the library.
We have a summer reading game available for ages 0-12 and a summer reading time log available for teens. These sheets can be picked up via curbside delivery during the regular library hours.  They can also be found here on the Dassel Library website and printed off.
When children hand in their sheets, they will need to write their first and last name on it along with the name of prize they would like based on photos of the prizes available that will be posted in the library window. Sheets can then be dropped in the library book drop and prizes will be put into their family's next curbside pickup bag. Multiple sheets can be turned in throughout the summer.
The library will also be hosting events on the Dassel Library Facebook page. This includes our regular Friday story hours which will be posted each week at 10 am. We will also be posting craft tutorials for simple at home crafts with materials that are commonly found at home along with craft tutorials that will be based on craft kits that can be picked up at the library on a first come first served basis. The library will also post a read aloud middle grades book with a chapter or two being read weekdays at 4:30 by our library staff.
After being posted on Facebook, all of these videos will be made available on the Dassel Library website under the Children and Teen Services section throughout the summer. There is no need to have a Facebook account to view these videos. Liking the Dassel Library Facebook page and having a Facebook account only makes it more likely that you will see these videos as soon as they are posted.
The summer reading program will start on June 8th. There is no need to sign up. Feel free to participate as you are able.