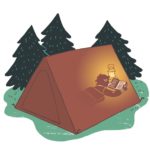 This summer, the Dassel Public Library invites kids to "Read Beyond the Beaten Path" beginning June 6. The library is festively decorated for this camping and nature theme.
To participate in the summer reading program, kids can sign up any time throughout the summer. The Summer Reading Program will officially end on August 31. When they sign up they'll get a folder, bookmark, and a reading log, and can pick out a book to keep. They can also take some bonus activity sheets if they're interested. The program is open to kids from preschool to age 18.
The summer reading program is always self-paced. Children work their way through the reading game sheets, earning spaces by reading or being read to for 20 minutes (counting up to an hour a day) and by doing other activities like being active for at least 20 minutes, reading aloud to a person or a pet, or asking library staff for a book recommendation. Teens have the option of doing a different reading log which simply counts hours spent reading. Whenever kids bring in a completed sheet, they can choose a small prize, and they'll be entered into a monthly prize drawing as well.
The goal of the summer reading program is to encourage kids to read all summer long so that they keep up their reading skills and return to school in the fall ready to learn. Because of that, kids can do one sheet after another all summer until late August and keep earning prizes.
Story Hour will be held at 10 a.m. on Fridays at the bandstand in downtown Dassel, from June 10 to August 26. These are geared to age 6 and younger, but older siblings are welcome to come along. Bring chairs or a blanket to sit on.
Our first activity of the summer will be a Stuffed Critter Campout at the library. Children are invited to drop off their stuffed critters at the library on Friday, June 10 and pick them up again on Saturday, June 11. The stuffed critters will do some fun library activities and then will go home with their human on Saturday with a picture from their evening at the library and a certificate for Courage in Camping. Everyone is invited to watch the adventures the stuffed critters get up to on the Dassel Library Facebook Page that evening!
Visit the library's website at dassel.lib.mn.us or the Dassel Library Facebook page or visit in person to learn more about what's offered for kids this summer.