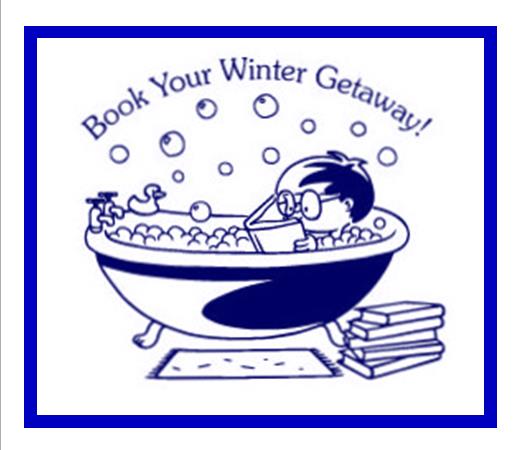 Our Adult Winter Reading Program will run January 3rd through March 31st.  When you sign-up, you will receive a beautiful blue Book You Winter Getaway bag, a punch card for books read, 6 book review forms, and a Book Your Winter Getaway bookmark.
The goal is to read 6 books by the end of March.  When you read 6 books and hand in your review forms, you will receive your choice of a Book Your Winter Getaway mug, a Book Your Winter Getaway adult coloring book, or the one-size-fits-all prize of chocolate!
Hand in your full punch card by March 31st and you will also be put into a drawing to receive a gift certificate from one of our local businesses thanks to the Friends of the Dassel Library!
You have two options when it comes to the book review forms:
Write a review on the form.  Yippee–we love your input!
Or, you can list the title/author of the book on the form and that will work, too!
We hope this will be something fun to get you through some of those winter doldrums.  There is no pressure to finish one way or the other.  We just like the idea of giving our patrons little incentives to read more throughout the year.  You can read printed books, ebooks, or even listen to audio books and they all count toward your goal of 6 books.
Happy Reading!